March 16, 2018-Merryman Performing Arts Center
Roy & Rosemary

with the Platte River Children's Chorale
Known for their versatility, passion, musicianship, and style, pianist Roy Tan and violinist Rosemary Siemens diverse talents and improvisational skills have led to three performances at Carnegie Hall, an unprecedented concert at St. Peter's Basilica and several concerts at the Vancouver and Beijing Olympics.
Joining them on stage will be the Platte River Children's Chorale as part of the Association's educational outreach.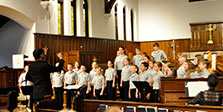 With support of the Nebraska Arts Council and the Nebraska Cultural Endowment.